Welcome to the Rochester Handyman service.
Domestic property repairs and improvements.
Providing restoration, renewal, and property maintenance services, in Rochester, and the surrounding areas.
When you need, or just want to GetAblokeIn, I offer excellent quality work, at reasonable prices.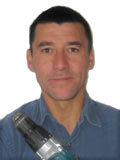 Knowledgeable and widely experienced, I value your satisfaction, and my pride in a job done properly.
More than ten years of commercial and residential experience building, fixing and installing... at your service.
RESPECT FOR YOUR HOME
I recognise your home is important to you.
I'll try to make a minimum of mess, and leave it clean and tidy.
REGARD FOR YOUR TIME
I recognise people have busy schedules, if I make an appointment I'll do my utmost to keep it. Throughout the job, I'll make every effort to inconvenience you as little as possible.
SERVICE WITH A SMILE
Friendly is courteous. I always aim to be totally approachable.
I don't charge for standard estimates.
Hover over, or click the 'Contact' button on the left to get in touch.
Or try the other buttons for more information.